By Joe Santoliquito
Jermell Charlo says he doesn't hear the dubious words zip through the air and into his ears. The WBC World Super Welterweight Champion says he doesn't care; that it doesn't matter what the skeptics say. Yet, he says, there were doubts. There were cutting words.
What it did was build a bubbling caldron that was looking to erupt.
It did Saturday night—with a downward left jab to the body that sent Jeison Rosario writhing in pain on the canvas at 0:21 of the eighth round to unify the 154-pound division for the eighth time in history at the Mohegan Sun Arena, in Uncasville, CT, in a Showtime pay-per-view doubleheader featuring the Charlo twins.
Charlo (34-1, 18 KOs) was incredibly impressive, dropping Rosario (20-2-1, 14 KOs) three times, once in the first, the sixth and the eighth.
"I knew (Rosario) would keep coming, and he did, he pressed on for four or five extra rounds, before I was able to floor him again," said Charlo, who unified the WBA, WBC and IBF belts. "I'm growing and I realize the knockout just come. I definitely proved I'm more than just a puncher, but I proved that I am a puncher.
"Me and my brother (WBC World Middleweight Champion Jermall Charlo) feel like we're in this alone. Because we're not the world's favorite and we got all of this criticism. I hope we proved all of these haters wrong tonight. I saw a whole lot of yak on that Instagram and on that Twitter and all of that media. They don't understand the skills of boxing. I have to calm down sometimes."
In the first round, Charlo came out throwing wide punches. One shot, according to referee Harvey Dock, clipped Rosario. Dock ruled Rosario was knocked down with a left hook in the first half of the round. A glancing Charlo left did bounce off the top of Rosario's head, though a replay showed Rosario's right foot falling outside of the ring, causing the knockdown.
Rosario nailed Charlo with a couple of left hooks in the second. Charlo seemed content on boxing in the third, staying at a safe distance, pecking away from the outside. With 0:57 left in the third, Dock warned Rosario to keep his punches up, as Charlo looked irked by a left hook on the hip.
Charlo resorted back to the jab again in the fourth. Rosario dug to the body with the left hook. "Banana" also began using his jab more consistently, backing up Charlo.
At 1:41 left in the sixth, Dock stopped the action for another low-blow warning to Rosario. Moments later, Charlo responded, nailing Rosario with a flush left hook to the face that was a legitimate knockdown.
Rosario returned to his corner in a wobbly, unstable state.
Charlo showed patience in the seventh. He continued to box in the eighth. Knowing he was in control, the poised Charlo poked long jab to Rosario's solar plexus, and the former WBA/IBF champ fell backwards, struggling to rise and wearing a look of agony as Dock reached 10.
"I never saw anything like that before," Charlo said.
Neither have fight fans.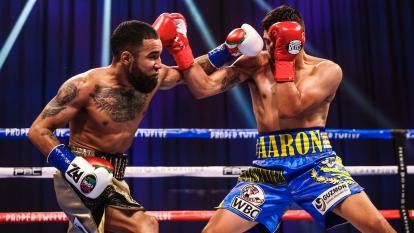 Luis Nery decisions Aaron Alameda to win the vacant WBC world super bantamweight belt
The waiting explosion was supposed to be coming. That's what everyone expects each time Luis Nery fights.
But the detonation never came.
Instead, the 25-year-old southpaw used a measured, consistent attack that led to a unanimous 12-round decision over Aaron Alameda to became a two-division title holder by securing the vacant WBC World Super Bantamweight title.
Judges Tom Carusone (116-112), Don Ackerman (118-110) and Julie Lederman (115-113) all had Nery winning the first four rounds.
"Alameda has a nice jab, he definitely connected, but I always felt like I had the fight under control," Nery said. "His defense was good, but at the end I really tightened up my attack and was able to get the victory.
"We know he had a lot of experience as an amateur, so we prepared for a quality opponent. It's not an excuse, but I haven't fought in a year, so I think that affected my performance a little. I got the victory because I landed more. You always look for the knockout, but he used the jab a lot and that threw me off a little bit until I was able to connect more at the end of the fight.
Nery didn't really open up until the seventh round. He pressured Alameda (25-1, 13 KOs), whose corner immediately told him he lost the round as soon as he sat down.
Nery, under new trainer Eddy Reynoso, was more defensive. He fought smart, landing power punches to the body, but Alameda withstood that.
In the 10th, Alameda finally landed his vaunted left uppercut. It was his best round, using a diverse attack to climb back into the fight.
In the 11th, Nery kept his persistent pressure on, throwing wide right hooks, mixed with a left uppercut. Nery may have hurt Alameda with a left hand.
Both fighters reached the 12th round for the first time in their careers. Nery attacked the body in the first minute of the round. Alameda fired back, using the left uppercut. Nery closed strong to become a two-division champion.
"There are a lot of good fighters in this division," said Nery. "Brandon Figueroa's name has come up, but we'll check with the team and go from there. We're ready to fight anyone at 122-pounds. We don't fear anybody."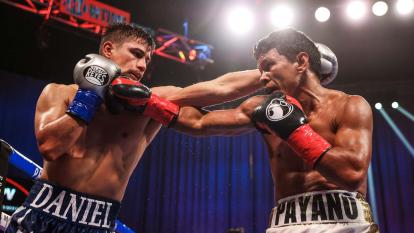 Daniel Roman pulls out a comeback against Juan Carlos Payano
At 36, Juan Carlos Payano was thought to be a little too old for Daniel Roman. The former WBA world bantamweight champ from the Dominican Republic was coming off two losses in his last three fights.
No one could have envisioned Payano finding a fountain of youth, but that's what it seemed like after eight rounds.
Then reality set—and age—set in.
Roman wound up pulling out a unanimous 12-round super bantamweight victory in a WBC title eliminator over Payano.
Roman, 30, rallied late, winning the last four rounds on the scorecards of judges Don Trella, David Sutherland and Kevin Morgan, who all scored it 116-112 for Roman.
A former IBF/WBA 122-pound champ, Roman (28-3-1, 10 KOs) needed this. He was fighting for the first time since losing to Murodjon Akhmadaliev by split decision, snapping Roman's seven-year, 19-fight winning streak. Roman also lost the IBF junior featherweight title and the WBA super bantamweight belts in that January loss.
Payano actually outlanded Roman, 261/804 (32.5%) to 152/633 (24%), but he did seem to fade in the end.
"I knew it was going to be a tough fight," Roman said. "I didn't underestimate him. He kept landing the uppercut to the body, and he got me a few times. But we made the little adjustment to avoid the shot, and kept pressuring him."
Payano, a southpaw fighting for the first time at 122, did well through the first six rounds. He came forward, countered Roman well, went to the body and used his footwork to get out of trouble.
"He kept countering me (early)," Roman said. "I had to either take a few steps back or to the side. I started throwing combinations and I started hurting him to the body. I kept putting pressure on him."
Sensing the fight slipping from him, Roman increased his work rate. As the rounds began narrowing down, Roman became more effective. He closed the gap and stayed in the pocket.
In the 10th, Payano (21-4, 9 KOs) appeared bothered by a cut on his left eye, opened in the last minute of the round. Roman went right at him, throwing constant rights against Payano's left side. The round looked like Roman's best of the fight, thanks to a consistent body attack.
As the final seconds were ticking away, a Roman sweeping left hook to the body seemed to knock down Payano, but referee John Callas ruled it a slip as the bell sounded.
Roman is looking ahead, at the new WBC super bantamweight champ Luis Nery or a rematch with Akhmadaliev.
"We're at that level already, give me Nery, and I want that rematch with MJ," Roman said.