The WBC World Middleweight Champion overcomes a stiff test with the finest performance of his career in the first of two headliners on SHOWTIME PPV.
It's time to place Jermall Charlo among the very best in the sport, pound for pound.
In a thrilling battle between elite 160-pounders, Charlo outboxed and outbrawled a game Sergiy Derevyanchenko to retain his WBC World Middleweight title via 12-round unanimous decision.
The bout headlined the first three-fight card in a six-fight, first-of-its-kind boxing doubleheader on SHOWTIME pay-per-view.
"I made my team proud and I did what I was supposed to do," an elated Charlo said afterward. "I executed the game plan. Ronnie Shields told me that I passed the test tonight. I'm happy to go back to the drawing board now and figure out what's next."
It wasn't easy – but no one has ever had an easy time versus Derevyanchenko. The Ukraine Olympian had come up short in two prior shots at a world title, both decision losses many believed should have gone in his favor.
Derevyanchenko, 34, 13-3, (10 KOs), was expected to be Charlo's toughest test at middleweight, the best name on the champion's ledger since he capped off his 154-pound world title run with a TKO win over Julian Williams in 2016.
But even those who saw the matchup as toss-up couldn't have foreseen the riveting back and forth the two warriors displayed over 12 rounds. In the end, Charlo's jab and power punching proved to be the difference. The former ranks among the best in the game. He began pumping it in the first, snapping Derevyanchenko's head back repeatedly.
Houston, Texas' Charlo, 30, 31-0 (22 KOs), continued to work his stick in the early rounds. It set up a hard right toward the end of the third that wobbled Derevyanchenko. It also bloodied both of his eyes; they were a purplish, swollen mess by fight's end.
Yet none of that deterred Derevyanchenko from biting down, coming forward and taking the fight to the champion. Charlo struggled in the middle rounds as the challenger maneuvered him toward the ropes and outworked him.
"He was tough, but I knew he was going to be tough," Charlo admitted. "I knew he'd come to fight, I just didn't know how and when he'd try to turn it up. I felt like I never really let him turn it up and that was the game plan. I studied well and I didn't let the pandemic affect my training. I just want to keep fighting and not let any negative interrupt the positive.
"I stayed poised, I stayed composed and I executed the game plan. I was staying behind the jab, I got away from it a little, but Ronnie got me back. I wanted to knock him out but dominating like I did was a big statement."
Even in those frames where Derevyanchenko had success, Charlo had his moments, calmly landing his jab and an occasional hard shot in between Derevyanchenko's flurries. In the eighth, one of those shots sent Derevyanchenko stumbling back as the bell to end the round sounded.
The fight appeared to be tightening up in the latter rounds as the pace slowed. Derevyanchenko was the busier fighter although it was Charlo who appeared to be landing the more effective punches. A hard right by Derevyanchenko in the 11th briefly got the champion's attention—he then responded with a jab that landed with the force of a power shot.
Both fighters let it all hang in the 12th. Derevyanchenko held the advantage until the final seconds of the stanza, when he was rocked by a short uppercut on the inside. Again, the bell seemed to save Derevyanchenko from a possible knockdown but the damage was done. All three judges scored it in Charlo's favor, by scores of 118-110, 117-111 and 116-112.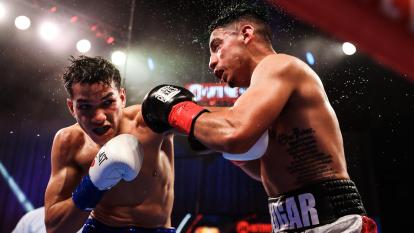 Brandon Figueroa batters Damien Vazquez, stops him in 10
A nine-month layoff, the longest of his career, couldn't slow Brandon Figueroa down. Neither could Damien Vazquez, despite his best efforts. The WBA World Super Bantamweight Champion turned in arguably the finest performance of his career, breaking the gutty Vazquez down and administering non-stop punishment until referee Gary Rosato halted the action to award him the victory at 1:18 of the 10th round.
The bout could have been stopped earlier. The 23-year-old Figueroa (21-0-1, 16 KOs) hurt Vazquez on a number of occasions, closing his right eye nearly shut and leaving visible welts on his ribs.
"I felt good tonight. He was a lot tougher than I expected," said Figueroa. "I was punishing him to the body and head. I had to switch to lefty because of how he was coming in with his head. I didn't want to risk a head butt so I boxed him differently."
Vazquez (15-2-1, 8 KOs) landed several big shots from his southpaw stance early on. Figueroa walked through them, switching from lefty to righty and landing a considerable amount of punches from either position. The tide began to shift in his favor in the fifth as several body shots backed Vazquez up.
Bloodied and bruised, Vazquez let it all hang in the seventh. Figueroa, however, can take a shot as well as deliver one. The Weslaco, Texas product refused to take a backward step, pounding Vazquez around the ring.
The bout grew increasingly one-sided in the ensuing frames. The ringside physician checked in on Vazquez prior to the start of the ninth. He allowed the fight to continue but it was over moments later as Figueroa mercifully battered Vazquez until Rosato saved him.
"This shows that I can fight under pressure, I'm strong and I give exciting fights," said Figueroa. "That's what fans want to see. I always leave everything in the ring and that's what I did tonight.
"I'm ready for anyone, I know I belong with the best fighters in the division. I just want to give fans great fights."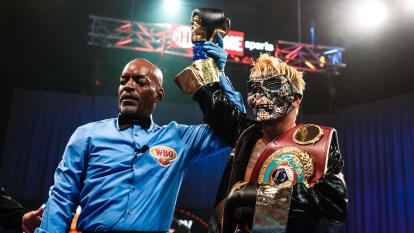 John Riel Casimero KO's Duke Micah in statement performance
John Riel Casimero proved again that he is one of the game's best finishers. Casimero notched his sixth consecutive knockout win and successfully retained his WBO World Bantamweight title via vicious third-round stoppage over Ghana's Duke Micah.
"I worked hard and got the win tonight," Casimero (30-4, 21 KOs) said afterward. "In the first round I saw the body shot hurt him and thought I could get him out right away, but he's a good boxer who was undefeated for a reason."
A hard right by Micah (24-1, 19 KOs) toward the end of the first may have been a major reason why Casimero didn't press advantage. Micah started the second strong but his momentum was halted by a hard left hook from Casimero. Micah immediately lost control of his legs. He never regained them.
Casimero poured it on, driving Micah to the canvas with a series of power shots. The Ghanaian gamely rose to his feet, stumbling around as Casimero sought to close the show.
"The second round the uppercut hurt him, but Duke Micah works hard, he's strong and has a good chin," said Casimero. "I knew I was facing a good fighter, so I didn't expect to knock him out so fast. He's strong so I was prepared to go all 12 rounds."
Micah escaped the second but when a left uppercut staggered him again, referee Steve Willis stepped in and rescued him at 0:54 of the third round.